Glen Hill School

Email: jjonas@queenbee16.org
Website: www.queenbee16.org
Location: 1324 Bloomingdale Road, Glendale Heights, IL, USA
Phone: 630.260.6141

Translation Available

To read this newsletter in a language other than English, please click on the "Translate Newsletter" link on the upper right-hand side of this page.

Para leer este boletín en otro idioma que no sea el inglés, por favor haga clic en el enlace "Traducir el boletín" en la parte superior derecha de esta página.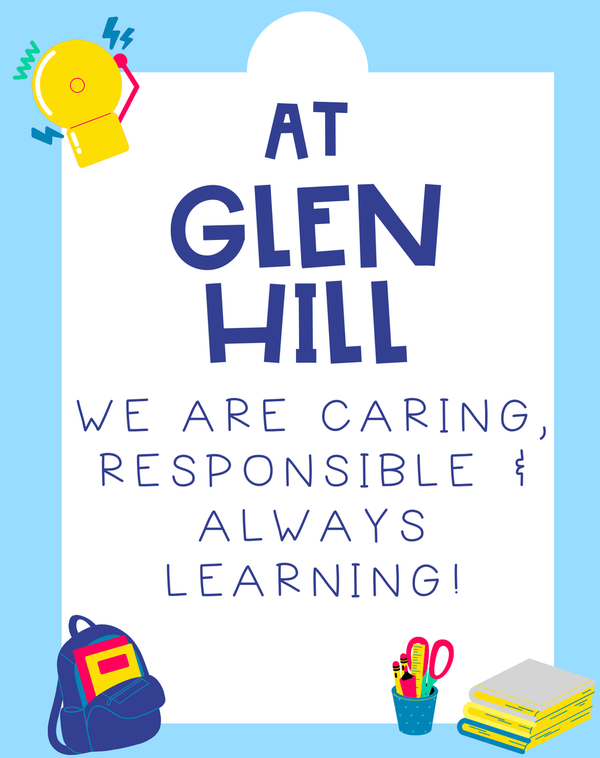 School Day Hours

Mondays-Fridays (NEW) 8:20 AM - 3:00 PM

Half Days 8:20 AM - 11:05 PM

NO SCHOOL - Fall Break - November 21-25
NO SCHOOL - Winter Break - December 19 - January 2

Coming Into the Building

Safety is our number one priority at Glen Hill. For this reason we need to limit the amount of people that are in our vestibule at one time. When coming to the school, please ring the bell and wait for one of our office staff members to let you into the building. If you are in the building, please do not open the door for visitors. Following this protocol will help to ensure the safety of everyone visiting the building.

October Dynamic Dolphins

We want to congratulate our October Dynamic Dolphins. They have shown others what is takes to be caring , responsible, and always learning in all situations at school. Thank you for being great leaders!

KDG-Diego A, Safa S, Nathaniel H, Jacob B

1st-Mateo B, Alejandro S, Salman F, Asher D, Matias D

2nd-Jacob C, Bella C, Sebastian D, Kawther E

3rd-Emma S, Maariya A, Rico B, Simra K, Jesus

4th-Victoria C, Abby S, Marvin F, Amani D

School Hot Lunch Menu Change

Thursday, November 17th, we will be serving a Thanksgiving lunch to students who order a hot lunch. The elementary lunch will include shredded turkey mixed with gravy, mashed potatoes, and cornbread.

Updated Health Information

If your student has any updates to their medical needs (such as an outside diagnosis or medication changes), please contact Nurse Jenna as soon as possible.

Looking for ways to help your students at home?

Utilizing these tips will support your student in writing.

7 Great Ways to Encourage Your Child's Writing

If your child struggles with writing, it's important to find new and exciting ways to encourage her to write. Here are some creative strategies to try.

launchreadingrockets.org
What Parents Need To Know About Huggy Wuggy and the Poppy Playtime Game

What Is Huggy Wuggy? Huggy Wuggy sounds like a cuddly teddy bear, but the monster is actually an evil villain in the 2021 horror PC game Poppy Playtime by MOB Games. When the blue stuffed bear opens his mouth, he has rows of sharp teeth. Poppy Playtime is a survival game set in an abandoned toy factory to search for clues as to the final fate of former co-workers. Players must solve puzzles while Huggy Wuggy chases and hunts them, and threatens other characters in nightmarish scenarios. He sings creepy songs with lyrics like, "I could hug you here forever, till you breathe your last breath together" and "My teeth sharp and ready, in my grasp yeah they're deadly."

Where Are Kids Getting Exposed to Huggy Wuggy? Videos of the monster-bear are on YouTube and TikTok. Parental controls are not filtering the videos because "Huggy Wuggy" is a cute name.

Why Are People Concerned About Huggy Wuggy? Common Sense Media cautions parents, "While there's no graphic violence or gore, there are splatters of blood throughout the factory. Also, the horror nature of the game will likely be too scary for younger audiences." It's a deceiving character as hugs should be seen as something loving and kind.

How Can You Help? It is important to be aware of what your child is playing and viewing on their devices.

● Educate yourself. It's hard to keep up with every new social media platform and app. But experts share it's important to know what your child is using.

● Get their opinions. Asking your child open-ended questions about what they know of a game and their thoughts on it can give you a glimpse into their thought process and help you shape the conversation.

● Communicate with your child. It can be alarming to learn that your child is watching scary videos or playing scary games. Use it as a prompt to speak with your child and help them learn.

● Let them know you're there. These images can be scary and confusing. Telling them that you understand that and letting them know you're always available to talk leaves the door open for future conversations.

Where Can I Find More Information? Common Sense Media (https://www.commonsensemedia.org/) is an organization that researches, rates, and reviews everything kids want to watch, read, or play so families can know if the content is safe or not:

Spirit wear orders are being delivered this week!

🐬

November FUNdraiser 11/17

The Queen Bee Educational Foundation has a November FUNdraiser at Freddy's at 556 E. North Avenue, Glendale Heights! On Thursday, 11/17/22, from 5 - 9 PM, 15% of your purchase amount (Note: DoorDash, Uber Eats, GrubHub and Google orders excluded. Gift card sales and delivery fees excluded) will result in a donation to the QBEF and benefit programs for District 16 school kids. Join us for dinner! Dine In or Carry-out!

To participate digitally, order on the Freddy's mobile app or website using the code GIVEBACK. To participate at the restaurant, tell the cashier of your participation (before payment) or show the flyer on your phone or in paper form (before payment). Eat in or take your order home, either way works! You can get the flyers (PDF to print or PNG to show on your phone) at our website https://www.qbef.org/Events.html

Please consider having a great meal at Freddy's to help the QBEF. We hope you'll also let your friends and neighbors know about this opportunity to support the QBEF and District 16 schools.

Bus Lane & South Parking Lot

Our bus lanes are reserved for our busses. Please park in the parking lot when arriving at Glen Hill.

Do not use the bus lane during the school day.

The south parking lot is reserved for staff. We do not have supervision there in the mornings and afternoons during arrival and dismissal.

Second Step in the Classroom

One way we are supporting students with making good choices is to help students parctice mindfulness. Mindfulness is being aware of your thoughts, feelings, and sensations in the present moment, without judgment. Research shows that children and adults who practice mindfulness experience a number of benefits, including improved well-being, increased emotional intelligence, and greater empathy. Mind Yeti sessions make it easy for us to create a mindfulness practice in our classroom in just a few minutes a day.
NURSE'S CORNER

Hello Glen Hill Families,

With the winter season coming upon us, we are seeing an increase of students becoming sick. Across all grades, there has been an uptick in cases of influenza, RSV and strep. As a reminder, please keep your student home if they are not feeling well. COVID tests are no longer required but are recommended. Home tests are a cheap and accessible method of determining if your child has COVID. Also, if your student's symptoms are worsening, I recommend following up with your primary care provider for guidance. Please keep the front office updated with any diagnosis of illnesses and ask your doctor for a return to school note. If you're not healthy, you're not learning. Let's make sure our kids stay healthy so they can continue to learn and grow at Glen Hill!

Jenna Palmisano, RN, BSN, PEL-CSN School Nurse

Glen Hill School Phone: 630.260.6142 Fax: 630.510.8566

Be a Role Model: 4 Ways to Balance Screen Time Around Children

By Common Sense Media | October 14, 2022 One of the advantages of modern technology is that you can be at the playground and scroll through your phone at the same time. We've all been there. We answer emails, catch up on group chats, and try to get in that one last text.

launchcommonsensemedia.org
Morning Arrival Procedures

It is important for all students to arrive on time and ready to learn every morning. In order to ensure students are safely in the building and ready to begin their day, we ask families to be here before the 8:15 bell rings. In the event that your student arrives later, we have procedures in place in make sure they get the information they need to start the day. Any students arriving after the 8:20 bell are officially tardy to school. Families MUST sign them in for the day. We have all students waiting until after our daily announcements to get to their classrooms. Thank you for your support in getting your students to school on time!

Car Line

In order to make sure our students are safe, please observe the following directions for dropping off and picking up your students. We know how valuable everyone's time is, but we also know keeping our students and staff safe is our priority.

Wait your turn in the line and do not move out of the car line.

Students should be let out of their cars curbside within the blue arrows.

Right turn on Bloomingdale Road only-

NO LEFT TURN

during the school day.

We discourage parking your car to drop off or pick your child, as it's a safety risk to your student.

If you choose to walk your student to school, we recommend parking along Glen Hill Drive and walking to the building. The picture below shows the ideal places to park.

Absences, Early Dismissals, or Late Arrivals?

Please contact the office for any changes to your student's day before 2:00.

630.260.6141 or 630.260.6143

Need Help from the Office? Make an Appointment

Please remember that the beginning and end of the day are very hectic for everyone. If you stop by to see someone in the office during these times, we will ask you to wait until we've taken care of students. You can always make an appointment to see us. This can save you time in your day.

Severe Weather Dismissal

When we have inclement weather, we do not want to send students outside to wait for their rides home. We will hold students in the building and call them out to the cars once a family arrives. If there is enough time, we will send out an email blast notifying families of the dismissal process as it occurs.

For walkers, please pick up your student at the back of the new gym. We will dismiss all walkers out the back door (Door 12)

Car riders will exit Door 13. Please do not stand close to Door 13, since that slows down our ability to safely get students from the building.