Glen Hill School

Email: jjonas@queenbee16.org
Website: www.queenbee16.org
Location: 1324 Bloomingdale Road, Glendale Heights, IL, USA
Phone: 630.260.6141

Translation Available

To read this newsletter in a language other than English, please click on the "Translate Newsletter" link on the upper right-hand side of this page.

Para leer este boletín en otro idioma que no sea el inglés, por favor haga clic en el enlace "Traducir el boletín" en la parte superior derecha de esta página.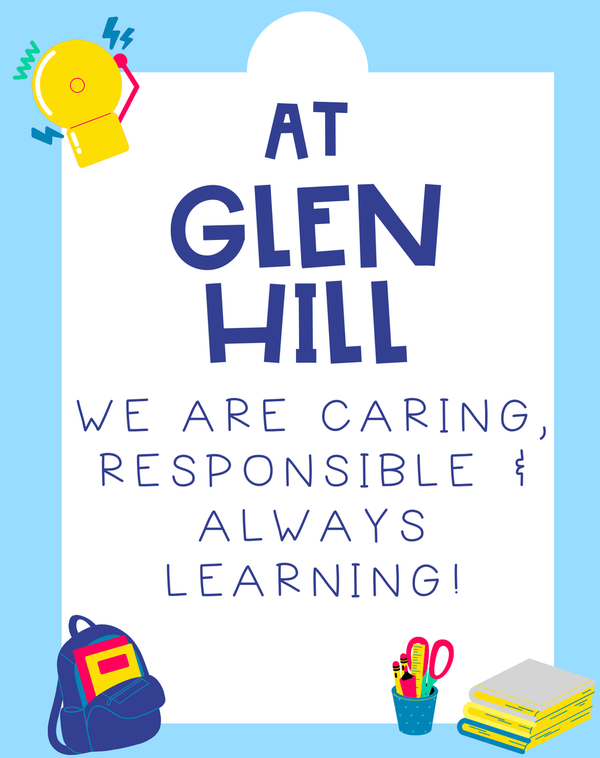 School Day Hours

Mondays-Fridays (NEW) 8:20 AM - 3:00 PM

Half Days 8:20 AM - 11:05 PM

Coming Into the Building

Safety is our number one priority at Glen Hill. For this reason we need to limit the amount of people that are in our vestibule at one time. When coming to the school, please ring the bell and wait for one of our office staff members to let you into the building. If you are in the building, please do not open the door for visitors. Following this protocol will help to ensure the safety of everyone visiting the building.

September Dynamic Dolphins

Beginning in September, we honor the students who are exhibiting our expectations in the classroom and throughout the building. Each teacher chooses a different student each month. Students are given a certificate and we take their picture to put on our Dynamic Dolphin bulletin board. We also list the students in our newsletter and on the marquee outside.

We look forward to hearing about the great things our students do each day!

KDG-Kenya P, Sulayman A, Lorene B, Thazin T

1st-Ella G, Rabiah M, William O. Andrea S, Keshvi B

2nd-Aubree T, Zoe A, Aldric L, Sofia G

3rd-Maddie C, Alondra V, Kaya K, Ava C

4th-Medina I, Tommy G, Scott B, Marisol R, Kayla T

School Wide Safety Drills

As required by the state, we must conduct a variety of drills each year. These include evacuation drills, severe weather drills, and intruder drills. We always remind students our most important job is to keep students safe. This is another way we work to keep them safe.

What Are Ways You Can Help Your Child at Home

A common question our teachers are asked by our families is "What can I do to help my child at home?". We all have the same answer: Read with your child. It doesn't matter if they are beginning readers or more advanced. Let them see you reading books, magazines, anything with print. Ask your child questions about what they are reading, either at home or at school. Explore books by going to the library. Let your child pick out books that they want to look at and good fit books for their reading abilities. Point out words you see in natural settings like at the store, on street signs, or at school.
GH School SpiritWear Sale

Glen Hill Primary School Spiritwear 2022

Online ordering for Glen Hill Primary School Spiritwear 2022 ends on Fri, Oct 14, 2022 (11:59 PM EDT)

launchglenhill22.itemorder.com
SAEBRS

As part of Queen Bee School District Multi-Tiered Systems of Supports (MTSS), an universal screening tool is used to assess student social and emotional learning skills. This allows us to take positive and preventative measures as early as possible and it gives us extra information in determining if students need additional support with social and emotional learning. The screening will be completed three times this school year; middle school students will complete a self-screener during their advisory class.

The FastBridge Social, Academic, and Emotional Behavior Risk Screener (SAEBRS) is used and screens for risk for the following behaviors:

Social: Students who are at risk for social behavior problems display behaviors that limit his/her ability to maintain age appropriate relationships with peers and adults.

Academic: Students who are at risk for academic behavior problems display behaviors that limit his/her ability to be prepared for, participate in, and benefit from academic instruction.

Emotional: Students who are at risk for emotional behavior problems display actions that limit his/her ability to regulate internal states, adapt to change, and respond to stressful/challenging events.

If a screening shows that a student's behavior is at-risk, school staff will problem-solve and determine if the student would benefit from additional skill development. If additional support is needed, school staff will work and collaborate with parents.

Please feel free to contact Ms. Jonas or Ms. Price if you have questions.

Social Emotional Learning-Second Step

This unit focuses on Growth Mindset & Goal-Setting. Our students are learning how to pay attention and manage distractions, develop a growth mindset, and apply goal-setting strategies to their social and academic lives.

No Toys In School

In order to help keep our students focused and ready to learn during the school day, we ask that you not allow your child to bring toys or cards to school. If you are dropping off a lunch at school, please remove any toys that may come with the meal. Toys, such as dolls, balls, stuffed animals and cards, can be a distraction to the learning environment. The exception is when teachers offer this as a class reward. Teachers will let parents know if this is allowed for a special occasion.

Math At Home

Khan Academy - This program is free to sign up for. It has lessons and practice for all grade levels.

RocketMath - this is a math fact fluency game and is roughly 5-10minutes a session

Prodigy - "Players embark on a journey filled with quests, battles, spells and rewards. Every battle brings more skill-building math questions for students to solve." - Prodigy Website

ABCya - "Numbers", this website has math practice that is more gamelike.

Math Playground - this website has math practice that is more gamelike.

Splash Learn - this website has math practice that is more gamelike.

* All of the websites above can be Googled or found on the Glen Hill "For Students" page.

Ms. Kerke's website! - Follow these directions to my math virtual classroom. Glen Hill website -> "Teacher Webpages" -> "Alyssa Kerke" -> scroll to the links at the bottom and click the first link "Math Specialist Virtual Classroom" - In this virtual classroom you will find math read alouds, tools to help with math work, additional websites, and my contact information.
NURSE's CORNER

This is the time of year when students and parents alike get sick often. Germs thrive in this weather; they like to hop from person to person when it is cold, making our days full of tissues and sneezes. However, these steps can make spreading germs (and, as a result, not getting sick!) less likely.

Keep kids home if they are not feeling well

Remember, although covid tests are no longer required to return to school, it is still strongly recommended for students showing any ill symptoms. If you do take a covid test, please send me the results at the email address listed below. Whether a covid test is given or not, sick students can return to school when they are symptom free and feeling better!

Cover your cough or sneeze with a tissue, them throw the tissue in the trash

Avoid touching your eyes, nose, and mouth

Clean and disinfect frequently touched objects and surfaces

Wash your hands for AT LEAST 20 seconds, and encourage your kids to do the same!

Hand washing is the number one way to help prevent getting sick. We remind students to wash hands or use hand sanitizer when entering the school, before lunch/recess, before eating, after coughing or sneezing, and any time they go to the bathroom.

An easy way to remember, if you sing the song "Twinkle Twinkle Little Star" twice, you've hit that 20 second mark...you are all clean and good to go!

With that being said, encourage your children to wash their hands wherever they go. And if your student is ever feeling ill, make sure to keep them home to rest. We can all help to make a great habit while also making sure our kids stay happy and healthy!

Nurse Jenna

(630) 260-6142

Cellular Devices-UPDATE

Students are not allowed to have cellular devices such as cell phones and smartwatches on during the school day. If your student brings a cell phone to school, they need to be powered off and in their lockers throughout the day. For students wearing smart watches, they need to be off. They DO NOT need to be in their lockers during the school day.
Morning Arrival Procedures

It is important for all students to arrive on time and ready to learn every morning. In order to ensure students are safely in the building and ready to begin their day, we ask families to be here before the 8:15 bell rings. In the event that your student arrives later, we have procedures in place in make sure they get the information they need to start the day. Any students arriving after the 8:20 bell are officially tardy to school. Families MUST sign them in for the day. We have all students waiting until after our daily announcements to get to their classrooms. Thank you for your support in getting your students to school on time!

Car Line

In order to make sure our students are safe, please observe the following directions for dropping off and picking up your students. We know how valuable everyone's time is, but we also know keeping our students and staff safe is our priority.

Wait your turn in the line and do not move out of the car line.

Students should be let out of their cars curbside within the blue arrows.

Right turn on Bloomingdale Road only-

NO LEFT TURN

during the school day.

We discourage parking your car to drop off or pick your child, as it's a safety risk to your student.

If you choose to walk your student to school, we recommend parking along Glen Hill Drive and walking to the building. The picture below shows the ideal places to park.

Bus Lane & South Parking Lot

Our bus lanes are reserved for our busses. Please park in the parking lot when arriving at Glen Hill.

Do not use the bus lane during the school day.

The south parking lot is reserved for staff. We do not have supervision there in the mornings and afternoons during arrival and dismissal.

Absences, Early Dismissals, or Late Arrivals?

Please contact the office for any changes to your student's day before 2:00.

630.260.6141 or 630.260.6143
Need Help from the Office? Make an Appointment

Please remember that the beginning and end of the day are very hectic for everyone. If you stop by to see someone in the office during these times, we will ask you to wait until we've taken care of students. You can always make an appointment to see us. This can save you time in your day.
Severe Weather Dismissal

When we have inclement weather, we do not want to send students outside to wait for their rides home. We will hold students in the building and call them out to the cars once a family arrives. If there is enough time, we will send out an email blast notifying families of the dismissal process as it occurs.

For walkers, please pick up your student at the back of the new gym. We will dismiss all walkers out the back door (Door 12)

Car riders will exit Door 13. Please do not stand close to Door 13, since that slows down our ability to safely get students from the building.